CreateART Artist Gallery Cotton Range
Designed With Professional Artists And Galleries In Mind
35mm Deep Kiln Dried Milled Pine Stretcher Bar

450gsm Unbleached Pure Cotton Duck

Double Stapled

Glue Sized Preparation Of Canvas

Triple Titanium White Primed Gesso

Suitable For Oil and Acrylic

Sizes range up to 48" x 72"

Looking for that something extra try our premium CreateART Artist Gallery Linen Range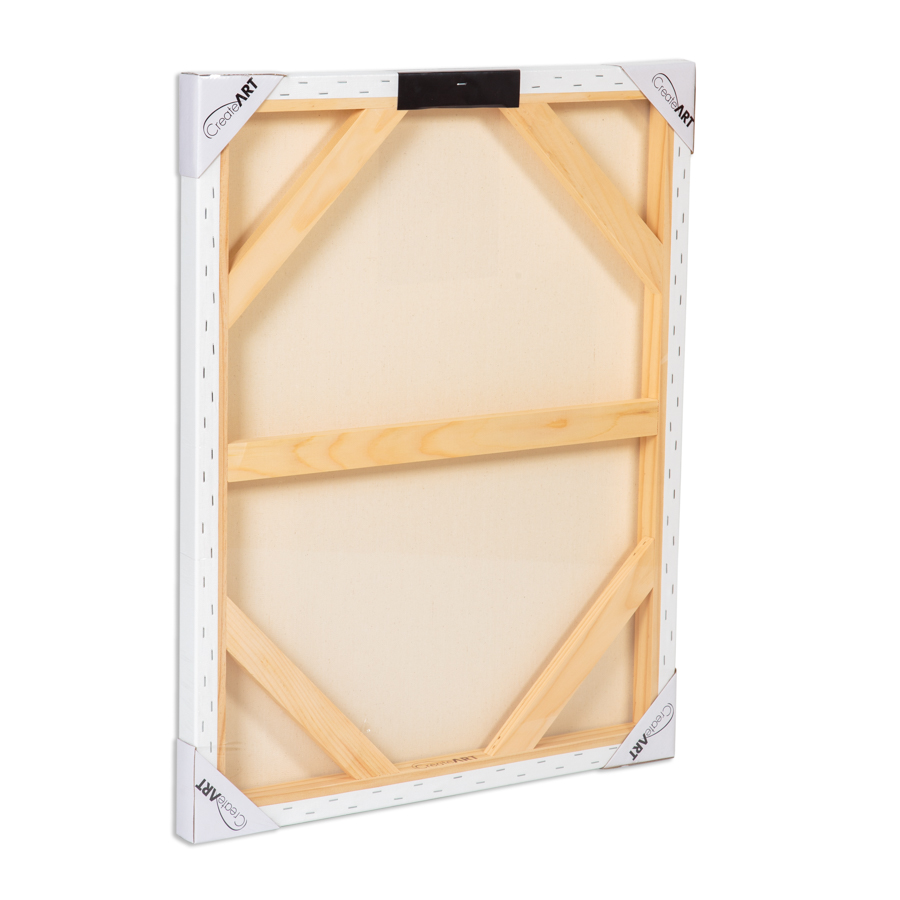 CreateART Artists Gallery Cotton canvases have been designed with professional artists and galleries in mind. This superior product features corner and centre bracing and a milled 35mmx35mm rounded edge heavy duty pine stretcher bar. A quality gallery accepted canvas, for use by the professional artist.
| | |
| --- | --- |
| SKU | CAPDT |
| Brand | CreateART |
Be The First To Review This Product!
Help other CreateART users shop smarter by writing reviews for products you have purchased.
Purchase Items
SKU
Specifics
Qty / Price Each
CAPDT2020

Size Inches:
20" x 20"

Size cms:
50.9 x 50.9

Canvas Depth:
35mm

Carton Qty:
6

CAPDT2024

Size Inches:
20" x 24"

Size cms:
50.9 x 61.0

Canvas Depth:
35mm

Carton Qty:
6

CAPDT2424

Size Inches:
24" x 24"

Size cms:
61.0 x 61.0

Canvas Depth:
35mm

Carton Qty:
6

CAPDT2430

Size Inches:
24" x 30"

Size cms:
61.0 x 76.3

Canvas Depth:
35mm

Carton Qty:
6

CAPDT2436

Size Inches:
24" x 36"

Size cms:
61.0 x 91.5

Canvas Depth:
35mm

Carton Qty:
6

CAPDT2460

Size Inches:
24" x 60"

Size cms:
61.0 x 152.4

Canvas Depth:
35mm

Carton Qty:
6

CAPDT3030

Size Inches:
30" x 30"

Size cms:
76.3 x 76.3

Canvas Depth:
35mm

Carton Qty:
6

CAPDT3040

Size Inches:
30" x 40"

Size cms:
76.3 x 101.6

Canvas Depth:
35mm

Carton Qty:
6

CAPDT3060

Size Inches:
30" x 60"

Size cms:
76.3 x 152.4

Canvas Depth:
35mm

Carton Qty:
6

CAPDT3636

Size Inches:
36" x 36"

Size cms:
91.5 x 91.5

Canvas Depth:
35mm

Carton Qty:
6

CAPDT3640

Size Inches:
36" x 40"

Size cms:
91.5 x 101.6

Canvas Depth:
35mm

Carton Qty:
6

CAPDT3648

Size Inches:
36" x 48"

Size cms:
91.5 x 122.1

Canvas Depth:
35mm

Carton Qty:
6

CAPDT3660

Size Inches:
36" x 60"

Size cms:
91.5 x 152.4

Canvas Depth:
35mm

Carton Qty:
4

CAPDT3672

Size Inches:
36" x 72"

Size cms:
91.5 x 182.9

Canvas Depth:
35mm

Carton Qty:
4

CAPDT4040

Size Inches:
40" X 40"

Size cms:
101.6 x 101.6

Canvas Depth:
35mm

Carton Qty:
6

CAPDT4048

Size Inches:
40" x 48"

Size cms:
101.6 x 122.1

Canvas Depth:
35mm

Carton Qty:
4

CAPDT4060

Size Inches:
40" x 60"

Size cms:
101.6 x 152.4

Canvas Depth:
35mm

Carton Qty:
4

CAPDT4848

Size Inches:
48" x 48"

Size cms:
122.1 x 122.1

Canvas Depth:
35mm

Carton Qty:
4

CAPDT4860

Size Inches:
48" x 60"

Size cms:
122.1 x 152.4

Canvas Depth:
35mm

Carton Qty:
4

CAPDT4872

Size Inches:
48" x 72"

Size cms:
122.1 x 182.9

Canvas Depth:
35mm

Carton Qty:
4