CreateART Artist Canvas Range
Fantastic Value And A Great Product!
37mm Deep Kiln Dried Pine Stretcher Bar

380gsm Unbleached Pure Cotton Duck

Glue Sized Preparation Of Canvas

Triple Titanium White Primed Gesso

Suitable For Oil and Acrylic

Sizes range up to 36"x48"

For Larger Sizes look at the higher specified CreateART Artist Gallery Cotton Range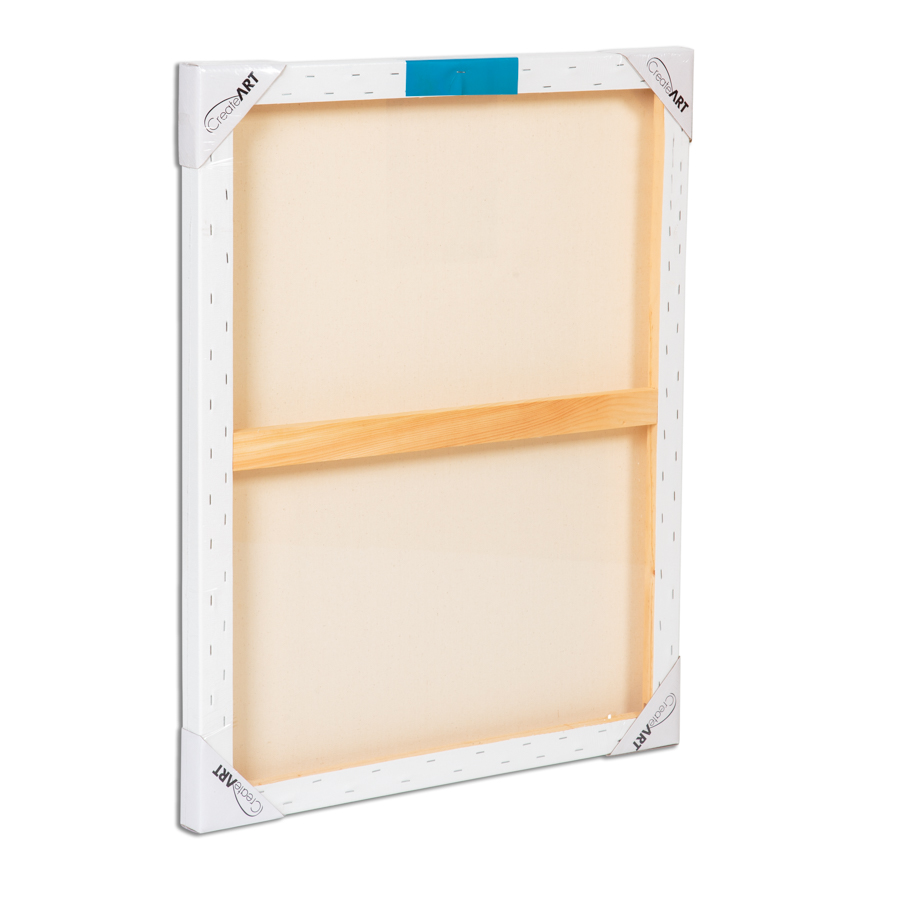 CreateART 37mm stretched canvases are designed for artists that require a reliable quality stretched canvas. 380gsm triple primed titanium white cotton canvas is stretched over a pine stretcher bar which is suitably braced and has a rounded edge profile. This product is a leader in its class and fantastic value for money.
Be The First To Review This Product!
Help other CreateART users shop smarter by writing reviews for products you have purchased.
Purchase Items
SKU
Specifics
Qty / Price Each
CADT0606

Size Inches:
6" x 6"

Size cms:
15.3 x 15.3

Canvas Depth:
37mm

Units/Ctn:
20

CADT0808

Size Inches:
8" x 8"

Size cms:
20.3 x 20.3

Canvas Depth:
37mm

Units/Ctn:
20

CADT0810

Size Inches:
8" x 10"

Size cms:
20.3 x 25.4

Canvas Depth:
37mm

Units/Ctn:
20

CADT1012

Size Inches:
10" x 12"

Size cms:
25.4 x 30.5

Canvas Depth:
37mm

Units/Ctn:
20

CADT1212

Size Inches:
12" x 12"

Size cms:
30.5 x 30.5

Canvas Depth:
37mm

Units/Ctn:
20

CADT1216

Size Inches:
12" x 16"

Size cms:
30.5 x 40.7

Canvas Depth:
37mm

Units/Ctn:
20

CADT1224

Size Inches:
12" x 24"

Size cms:
30.5 x 61.0

Canvas Depth:
37mm

Units/Ctn:
10

CADT1418

Size Inches:
14" x 18"

Size cms:
35.6 x 45.7

Canvas Depth:
37mm

Units/Ctn:
10

CADT1616

Size Inches:
16" x 16"

Size cms:
40.7 x 40.7

Canvas Depth:
37mm

Units/Ctn:
10

CADT1620

Size Inches:
16" x 20"

Size cms:
40.7 x 50.9

Canvas Depth:
37mm

Units/Ctn:
10

CADT1818

Size Inches:
18" x 18"

Size cms:
45.7 x 45.7

Canvas Depth:
37mm

Units/Ctn:
10

CADT1824

Size Inches:
18" x 24"

Size cms:
45.7 x 61.0

Canvas Depth:
37mm

Units/Ctn:
10

CADT1836

Size Inches:
18" x 36"

Size cms:
45.7 x 91.5

Canvas Depth:
37mm

Units/Ctn:
10

CADT2024

Size Inches:
20" x 24"

Size cms:
50.9 x 61.0

Canvas Depth:
37mm

Units/Ctn:
10

CADT2030

Size Inches:
20" x 30"

Size cms:
50.9 x 76.3

Canvas Depth:
37mm

Units/Ctn:
10

CADT2040

Size Inches:
20" x 40"

Size cms:
50.6 x 101.6

Canvas Depth:
37mm

Units/Ctn:
6

CADT2424

Size Inches:
24" x 24"

Size cms:
61.0 x 61.0

Canvas Depth:
37mm

Units/Ctn:
10

CADT2430

Size Inches:
24" x 30"

Size cms:
61.0 x 76.3

Canvas Depth:
37mm

Units/Ctn:
6

CADT2436

Size Inches:
24" x 36"

Size cms:
61.0 x 91.5

Canvas Depth:
37mm

Units/Ctn:
6

CADT2448

Size Inches:
24" x 48"

Size cms:
61.0 x 122.1

Canvas Depth:
37mm

Units/Ctn:
6

CADT3030

Size Inches:
30" x 30"

Size cms:
76.3 x 76.3

Canvas Depth:
37mm

Units/Ctn:
6

CADT3036

Size Inches:
30" x 36"

Size cms:
76.3 x 91.5

Canvas Depth:
37mm

Units/Ctn:
6

CADT3040

Size Inches:
30" x 40"

Size cms:
76.3 x 101.6

Canvas Depth:
37mm

Units/Ctn:
6

CADT3636

Size Inches:
36" x 36"

Size cms:
91.5 x 91.5

Canvas Depth:
37mm

Units/Ctn:
6

CADT3648

Size Inches:
36" x 48"

Size cms:
91.5 x 122.1

Canvas Depth:
37mm

Units/Ctn:
6